FREEDOM SPORTS
4th Annual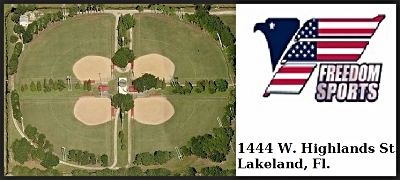 Medial , Comp
Come on out and have a Good Time!!!!
Entry Fee: $350 (if team don't bring (10) toys will pay full price but I will use $50 of their entry to buy toys)
Each team that brings (10) Unopened , Unwrapped Toys will receive a $50 discount towards entry
***Special Team Plaque for Team that donates the most toys!***
12/8 ......3gg- Cash only at fields.
Balls will be sold @ Field $7 each or $70 a dozen
DIVISION PRIZE



1st: $800 Cash , (12) Freedom Shirts

2nd: $300 Cash (12) Freedom Shirts

3rd: (12) Freedom T Shirts


(12) Team Min.Medial

1. CWP
2. Faith & Freedom
3. Die Hard
4. DJK
5. Hit Kings
6. Battle Ground


7. Dirt Nasty


8. 420
9. TN


10. Scared Hitless


11.
12.

Comp

1.
2.
3.
4.
5.
6.

7.

8.
9.

10.

11.
12. All 2018 "Official" FREEDOM Rules apply. Posted at: www.FreedomSports.com



ALL

teams

MUST

be sanctioned for 2018 (

$30 yearly Sanction if neded)





ALL

teams

MUST

have roster entered online and approved by FREEDOM SPORTS ASSOCIATION prior to playing - No Exceptions.

Each player must have photo ID to be eligible to play and be at least 18 years of age to participate in any FREEDOM SPORTS ASSOCIATION adult sanctioned event.

Umpires:


Wayne Scott
Central Florida Tournament Director
waynes@FreedomSports.com
(863) 662-7018